MAIN GALLERY 2023

Passages
Paula Cooley and Louisa Ferguson
July 7th - August 6th, 2023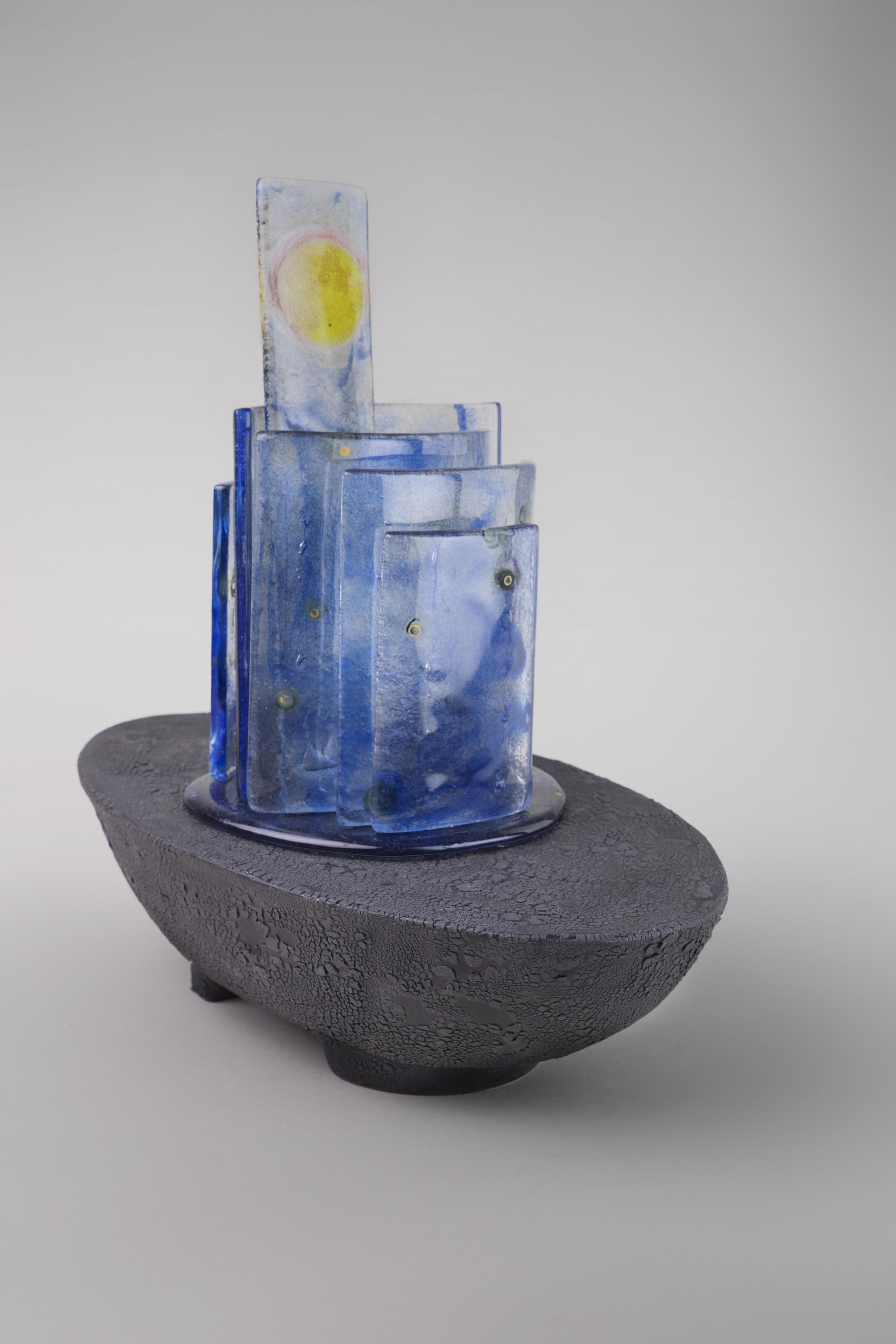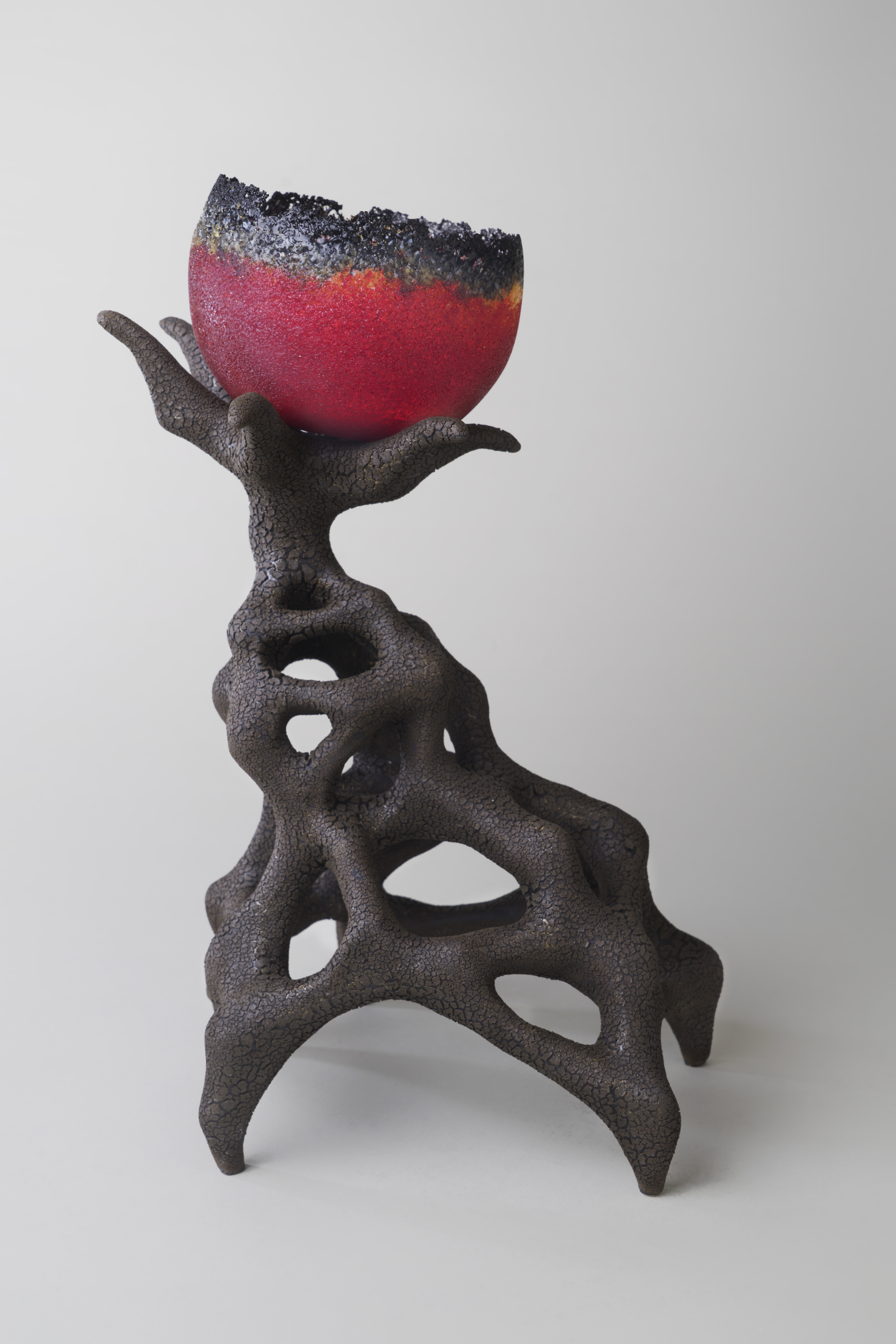 Nocturne Ember and Ash
Clay and Glass by Paula Cooley and Louisa Ferguson
Passages - Paula Cooley and Louisa Ferguson "
Our mixed media exhibition, Passages, grew out of a CARFAC Mentorship we did together in 2015-16. As part of our mentorship, we combined our respective mediums of clay and glass to create several collaborative pieces. The resulting ceramic and glass sculptures whetted our desire to continue to create and exhibit together, providing the impetus of the new work exhibited here with Passages.
We used the iconic boat form as a starting point for both our collaborative and individual works in Passages. The boat form allowed us to explore various interests, be it the formal qualities of light, shadow and negative space or metaphorical journeys through life and time. In some of our pieces the boat is easily recognized while in others the form has been abstracted and evolved into a new and different vessel.
Our process as artists is complementary. We both view the creative practice as dialogue between the artist and the emerging work. We work intuitively, reacting to ideas and forms and then modifying our work accordingly. For Passages, ideas and forms evolved as we handed off segments of sculptures to each other to respond to and build upon. The collaborative process can be difficult. There is always the push and pull of individual purpose, personal artistic vision and subjective meaning, but we both found that there was always an invigorating energy propelling us forward to see what work would ultimately emerge. As and experience, the creation of Passages was a constructive interchange between two artists exploring form, a symbol, and narrative.
The sculptures incorporate a variety of media such as glass, ceramic, metal, and wood. Approximately a third of the sculptures are collaborative, a thrid are works by Cooley, and a third are works by Ferguson
SYMBIOSIS
Ted Uchacz - Oriol Dancer - Ray Keighley - Ellery Russell
Windows Gallery
June 10th - August 16th 2023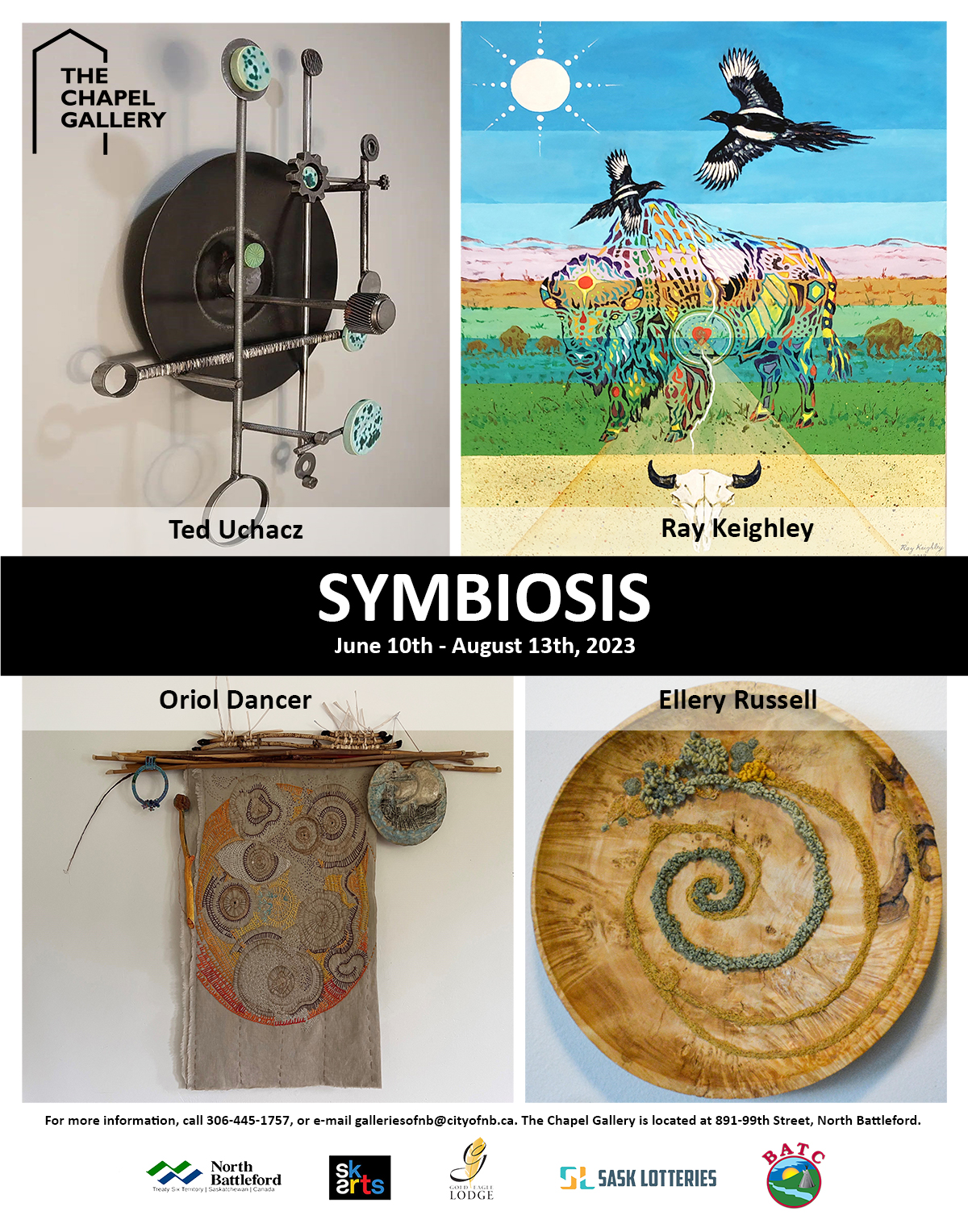 "Symbiosis: any relationship or interaction between two dissimilar organisms." National Geographic Society
Symbiosis is a collaborative art project between four like-minded artists who saw a cohesion between each other's spirit, art practice, and intention to honour the natural world. This 2023 Exhibition is the fiirst result of their work together and is the kick start to a a larger project and body of work called "Portal of Understanding".
This exhibition is the first exercise in their collaboration, which is an important aspect of their exploration. Miraculously, in the 11th hour, the world aligned, and their first collaborative sculpture came together, and it fit like a perfect piece of the puzzle, and the "Tree of Life" was manifested into the cornerstone of their project. "Tree of Life" is grounded by the turtle wood carving by Ray Keighley, supported by the tree trunk made of paper/natural fibre by Oriol Dancer, and crowned by the square, yet globe-like metal sculpture made by Ted Uchacz, and Ellery Russell's needle-felted mushrooms and lichen capped off the sculptural work. Diverse beings and creatures surround the sculpture and subsist on this "Tree of Life" that reminds us of how small we really are in this world and the narrow balance that we teeter on. We shall see more of this work in 2025, with a culmination of the work to showcase at The Chapel Gallery in the Main Salon in 2025.
Allegories - Meditations on Religion and Society
Gordon Frederick Bland
May 20 - June 25, 2023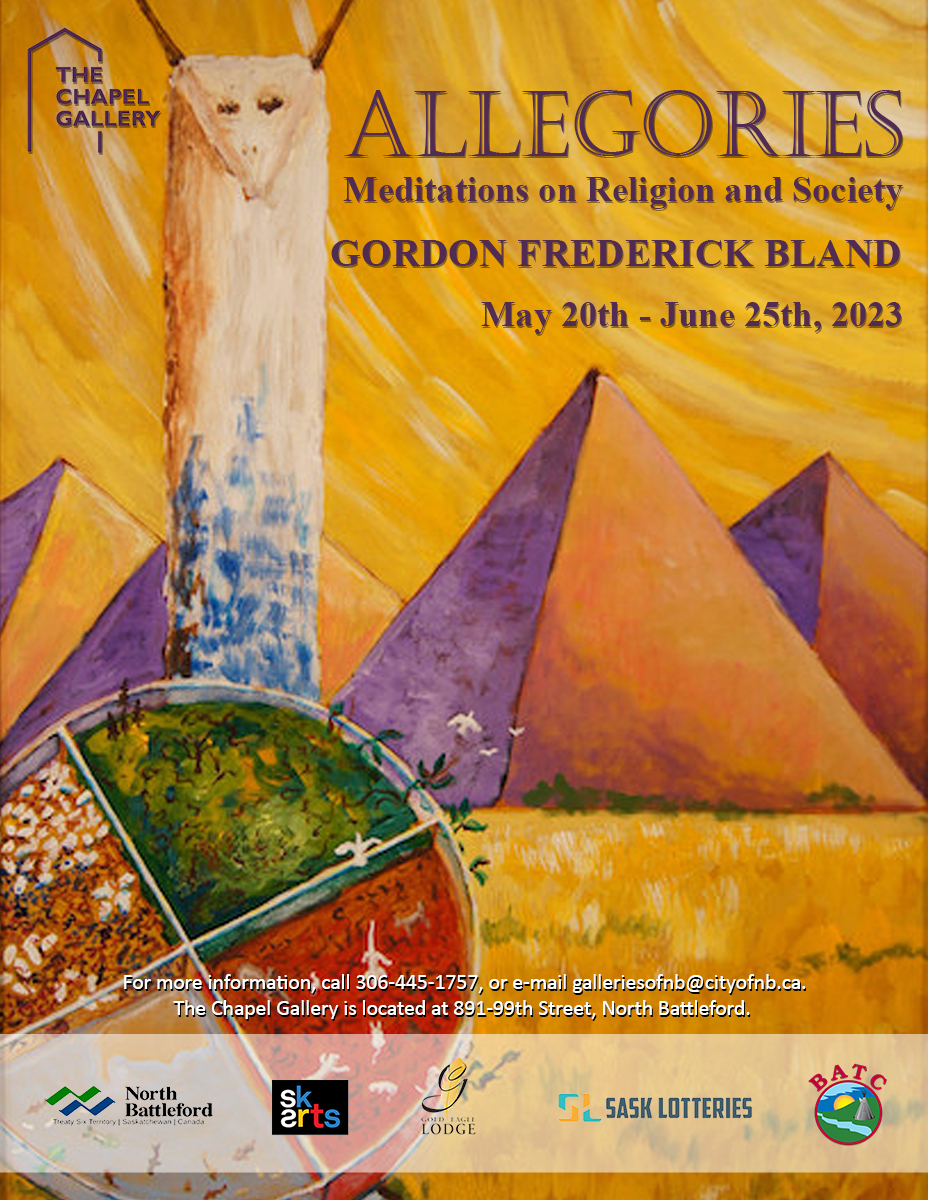 A Meditation Allegory: A Story, poem, picture, etc in which the meaning or message is represented symbolically. (The Concise Oxford Dictionalry, 1995)
Artist's Statement
In this series of acrylic paintings, I explore the allegorical potential or geometric forms, using intense colour and varied texture, playing with balance and imbalance to suggest meaning.
The ancient Greek phiolsopher Plato argued that the world that we experience is illusory and impermanent, yet reflects eternal and unchanging Truths, which he called "Forms" or IDeas ( eidos). For Plato, the world we perceive "participates" in these Truths, even though their expression may be vaired or even hidden.
Religion and myth, science and philosophy, literature and art have all sought to tell stories of our past, present and future. What we accept as Truth about ourselves relies on our interpretations of such stories. To what extent would the "Truths" portraying in an abstract, or highly symbolic, painting be interpreted similarly by different viewers? Would viewere accept such abstractions as a recognizable allegorical reference? How would the viewere's own beliefs inform an interpretation of the painting? These are thequestions that the series "Allegories" seeks to pose and, perhaps answer.
For want of a better term, I am referring to the illustrative style I have used in this series of paintings as narrative abstraction.
An essential aspect of the series is the interpretaion that the viewer brings. I want to explore the by having response sheets available to viewer where their thoughts and/or emotional reaction can be recorded and submitted to the gallery and artist, so that the dialogue is not entirely one way (artist to viewer), but two-way. Ultimatelty, these response will be included as part of the show.
Gordon Bland
Woolgathering
Marjory Fisher
March 18 - April 23, 2023
Main Gallery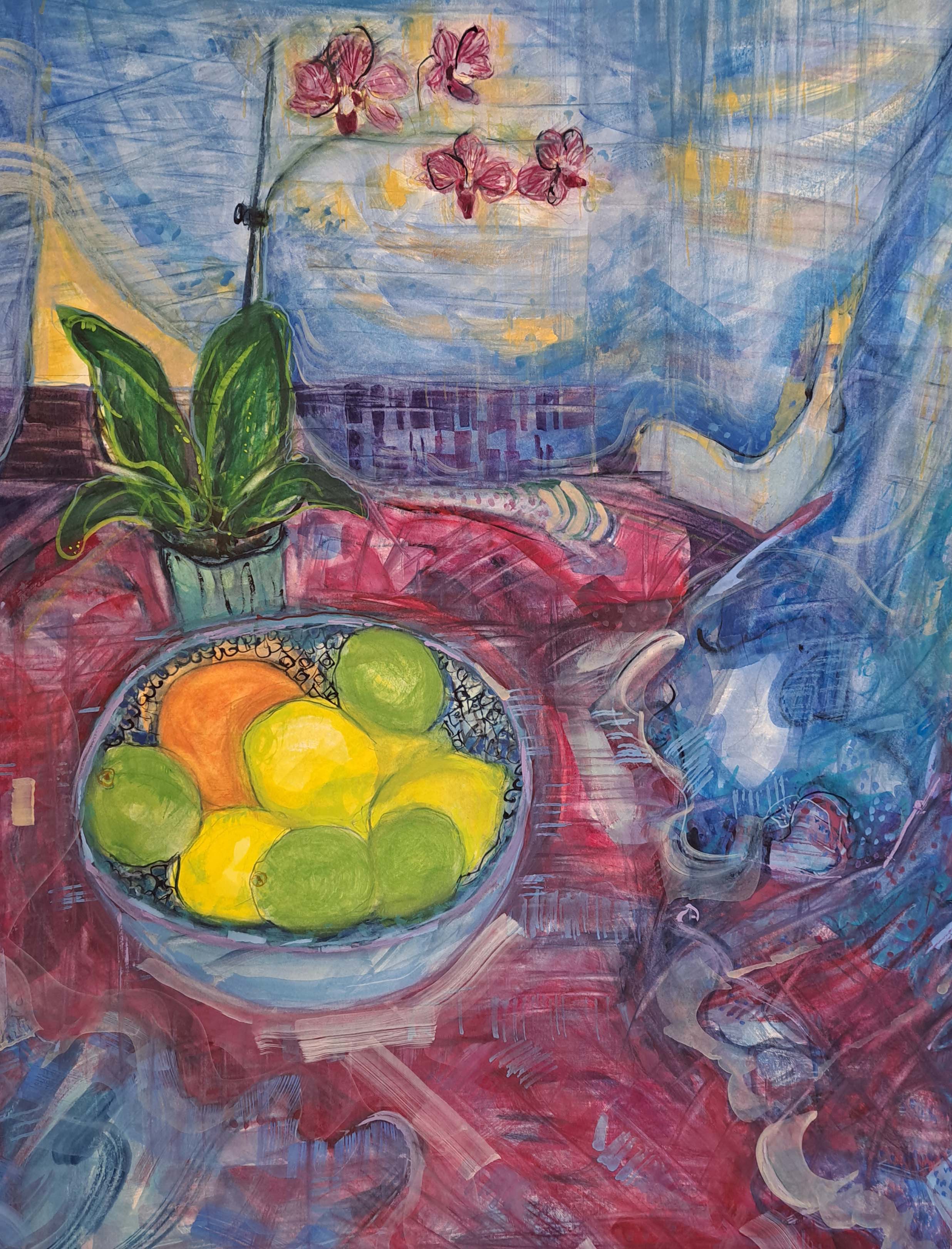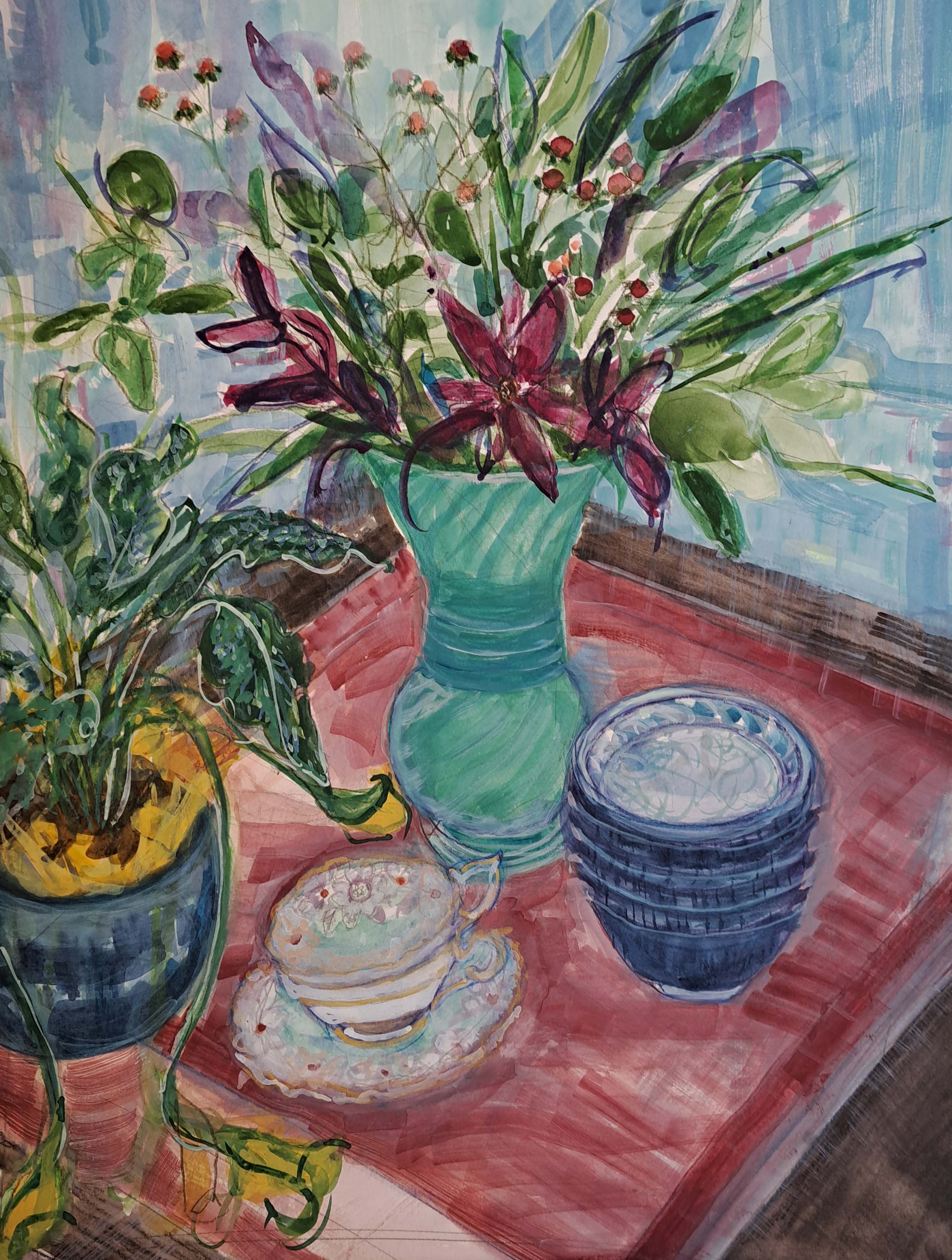 Silk Scarves - goauche on paper - Marjory Fisher Summer Table - goauche on paper - Marjory Fisher
The voices of my teachers and aprents still echo in my head, "Marjory, stop daydreaming." I never did stop, and I don't believe I could if I wanted to. My installation of work is entitled "woolgathering"" which is a medieval word that describes indulging in aimless thought - daydreaming. It originally described the state of mind of a child or resourceful person that collects tufts of wool on fences and hedges left by passing sheep who is lost in reverie.
Visiting the muse, getting in the flow, or simply daydreaming. That is where the ideas are and one of my best sources of fun. Which is why most of this collection of work was painted at 3:00AM when I am undistracted by the world.
This collection of works is a peek into my imagination revealing what amuses me and captures my attention. My love of sculptural animals, with big personalitites is obvious as is my tendency and weakness to romanticize Viking Sheep. This exhibition is off on a tangent from a more serious focus series of painting that I have been working on. So, 'woolgathering' is a sequence of fanciful subjects that supports lighthearted energy that gets us ready for spring and into the party mood.
Yeas ago, I remember a prominent artist quoting his artist friend by saying, "showing your art is like showing people your underwear drawer." I think there is an element of truth to that. As an artist who paints in an insular environment, only showing a few people some of my work to then display it all at once, takes a surge of courage.
I choose gouache as a favored medium. Goauche is bright and bolder color, but the edges can be softened with traditional watercolor. The biggest difference with goauche and watercolor is with watercolor you plan the white of the page before start the painting but with goauche you can paint light colors over dark. Most of my paintings are done in goauche and/or mixed with watercolor. Goauche is also watercolor, and ancient opaque watercolor.
Since there are no new colors in the world, we can only get excited about new collections of color. Holbein goauche has recently put together collections of "The Color of Japan". Something to make any artist excited.
Marjory Fisher, 2023
WATERWORKS
Chris Hodge - Joanne Rivers Wing
April 1 - May 28th, 2023

Windows Gallery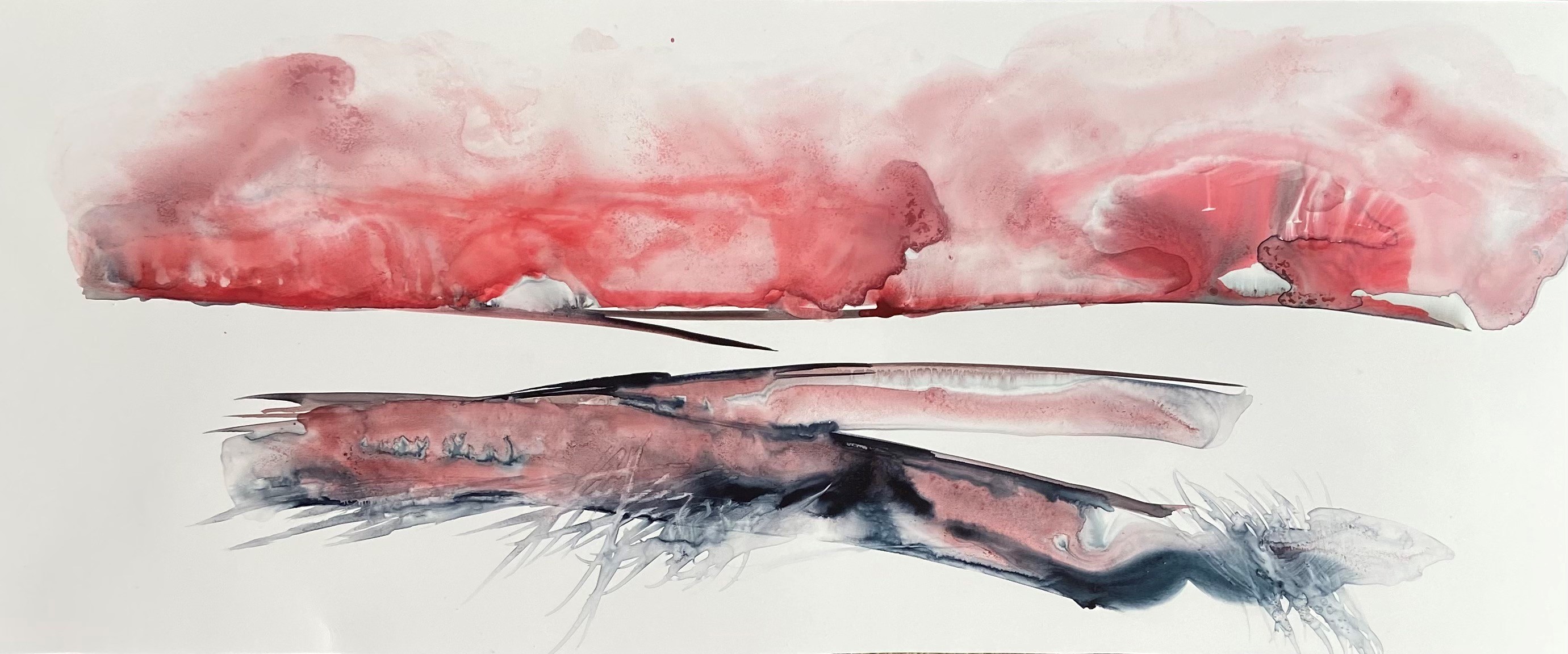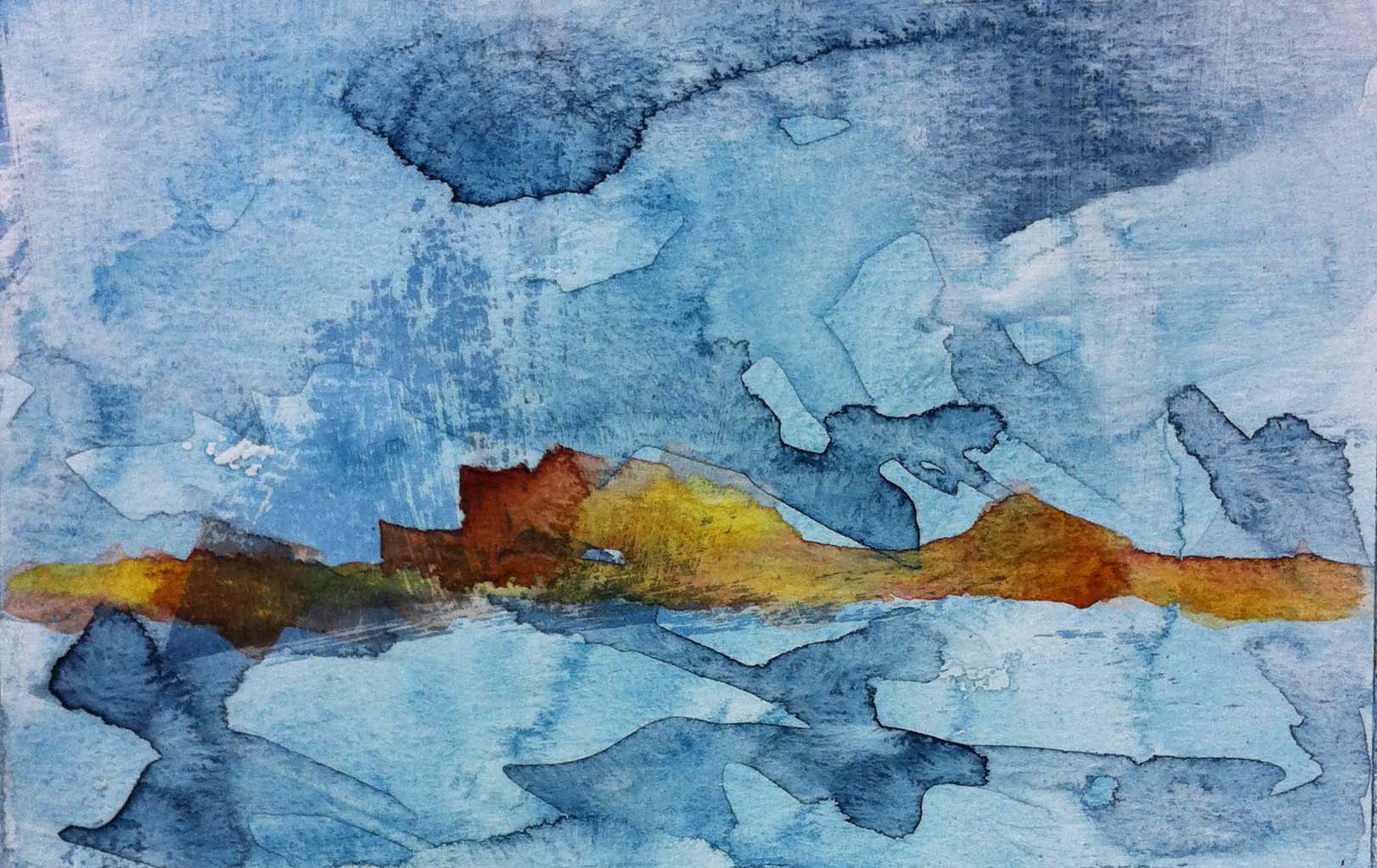 Fall Sunset - Watercolour on Yupo - Joanne Rivers Wing Untitled - Watercolour on Yupo - Chris Hodge
Chris Hodge, painter and sculptor and Joanne Rivers Wing, painter and ceramic artist both have a passion for and are inspired by the local landscapes and locations outside this part of the country. Chris enjoys painting plein air, weather permitting, while Joanne paits in a space overlooking a lake. We both work in a loose style using water-based media. Our paintings range in size depending on personal preference and situation and are considered abstract while they retain a link to the land and nature. Colour and form play a primate roled in our pieces with detail being secondary consideration.
We are both members of ARC Creative Studios in North Battleford.
COMMON GROUND
Cindy Hoppe and Diane Larouche Ellard
January 28th - March 12, 2023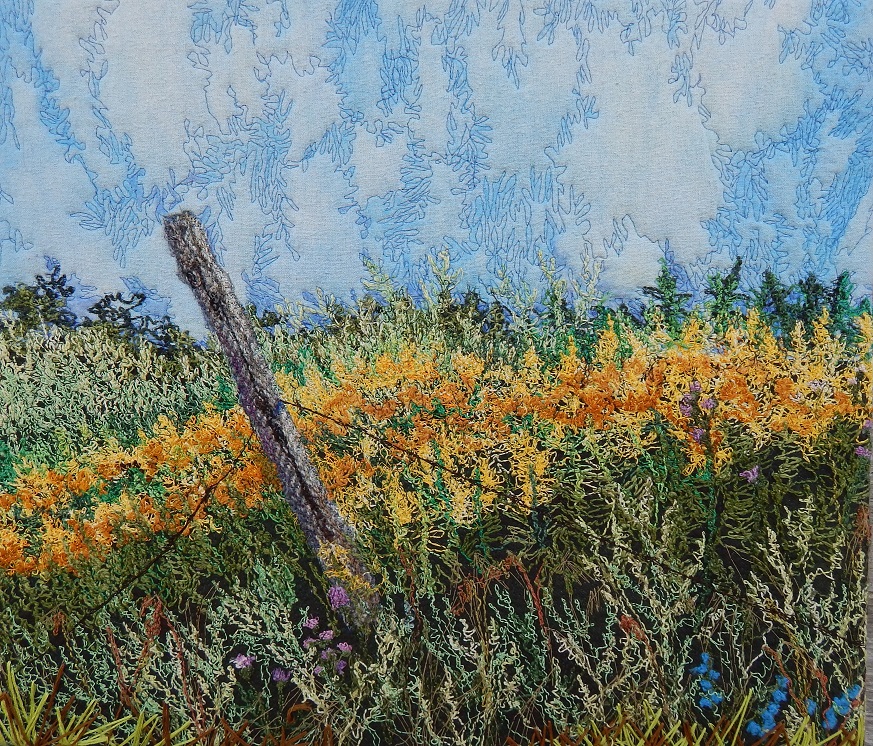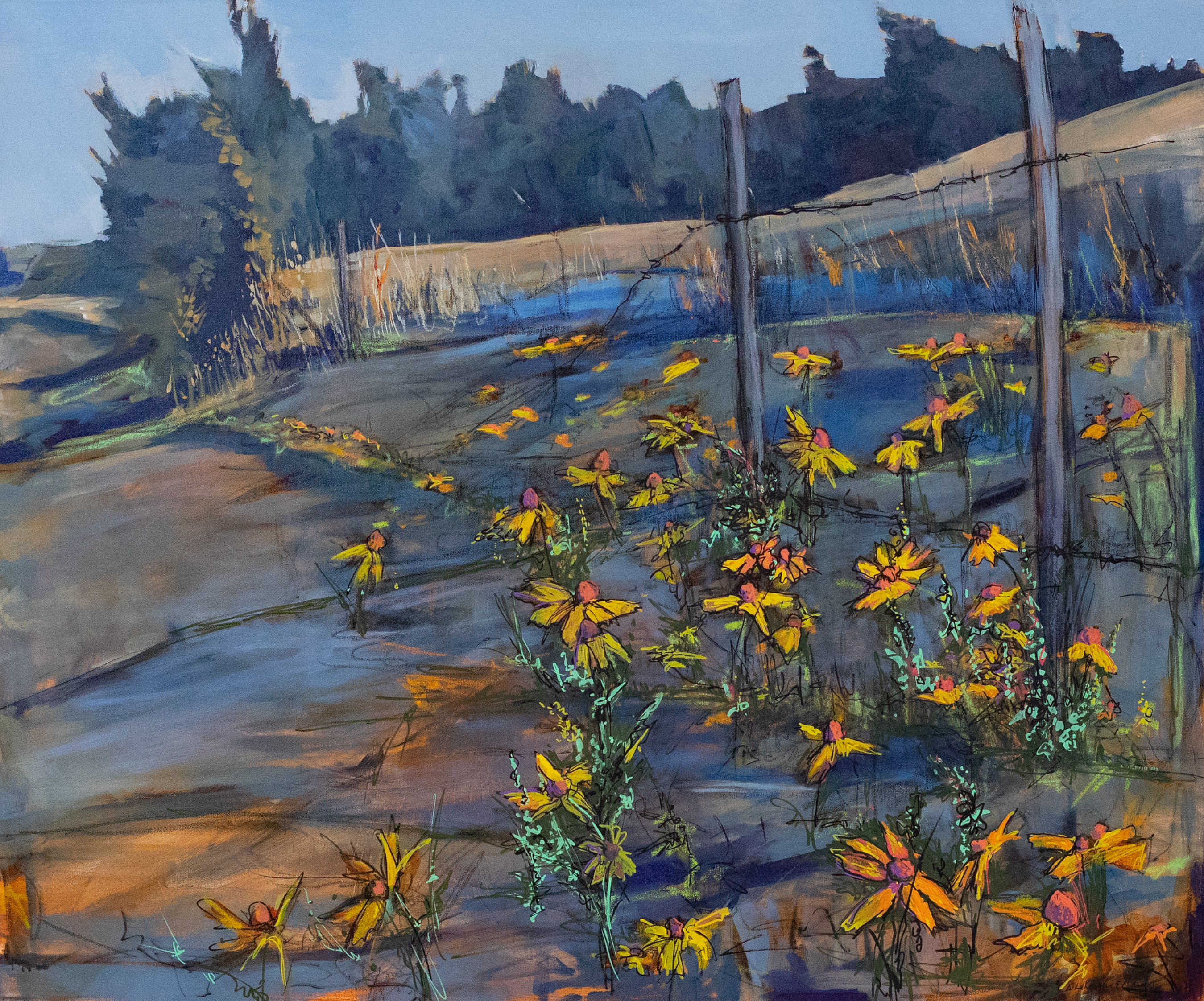 "Golden Rod and Clover" - Fibre Art - Cindy Hoppe "Evening Walk" - Acrylic on Canvas - Cindy Larouche Ellard
Cindy Hoppe, Fibre Artist, and Diane Larouche Ellard, Painter and Mixed Media Artis have shared their love for the prairie landscape south of the Battleford for many years. They regularly take photo trips in the area to build up reference material. Each artist then returns the reference material to their studio and transforms it using their media of choice. At times they use the same photo and produce work that maintains a connection to the reference material while their chosen media and mark-making takes them on different paths.
The exhibition "Common Ground" explores the artist' shared love of place and commonalities, including a fascination with texture, line, and light. The friendship between the artists creates a unique dynamic allowing each to place their individual findgerprint on the pieces ceated. Their expressions of similar subject matter are transformed by the tools and technique they use ot create something wholly new but connected.